Important News
We have released Shinobi Life Online Pre-Alpha Version 1.1.0.0! This update features Earth Release: Earth Dome Jutsu, Aiming Mode and more! Try it out and tell us what you think.
User
Statistics

Members
Total Members: 47321
Latest:
Shazun
New This Month: 151
New This Week: 53
New Today: 9
---

Stats
Total Posts: 55827
Total Topics: 3329
Most Online Today: 298
Most Online Ever: 1192
(November 06, 2018, 07:35:41)
---

Users Online
Members: 0
Guests: 233
Total: 238
---
Google (5)

Show Posts
This section allows you to view all posts made by this member. Note that you can only see posts made in areas you currently have access to.
Messages - m4r1us
1307
« on: September 13, 2013, 04:46:10 »
Name: Hao Yuki
Age: 16
Gender: Male
Height: 168 cm
Weight: 55 kg
Hairstyle: Sasuke's hair, only white.
Facial hair: no facial hair
Hair color: White
Eye color: Black
Blood type: A
Primary chakra nature: Fire
Secondary chakra nature: Lightning
Village: missing-nin
Clan: Yuki clan
Good or evil at heart: Well intentioned extremist
Description of the character's personality:
Description of the character's history:
Character image:
Character songs:
---
Old character image: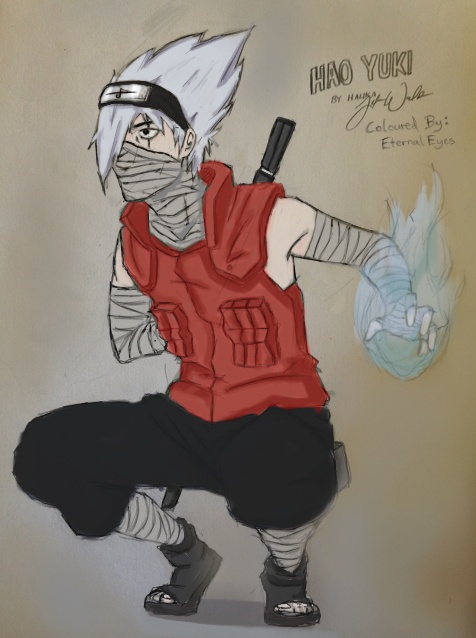 Drawn by halika and colored by EternalEyes.
1309
« on: September 12, 2013, 14:17:36 »
Hey everyone. My name is Marius and I've been following projects like this for quite some time now. I wish Vreg the best of luck with this.

Name: Marius
Ethnicity: Romanian
Living in: Oradea, Romania
Born: September 24, 1997
Sports: Football for some years, but I quit

Hobbies: Listening to music(rap, Eminem is my favorite), playing football, learning 3D modeling, poker etc.
Goals in life: losing everything at poker and suicide (just kidding)
Languages: Romanian, English
Computer languages: C++ and some basic HTML, nothing important in HTML anyways
Languages to learn: Botswaneze ofc
Computer languages to learn: C# and Java for now
Education: just in high school right now
Recent Topics
Leebz is Hidden Forest Kage by Leebz
September 01, 2019, 01:07:41
---
Shinobi Life Online MMO Update #6 by origalili51
August 28, 2019, 10:28:51
---
The Lie That Never Lived: Shionbi Life Online by Manuster
August 19, 2019, 15:42:45
---
Extra Information by Shuninx
August 14, 2019, 16:48:23
---
Who's Better In General, Naruto Or Sauske? by Hiruko
August 13, 2019, 12:45:57
---
Maybe Reach Out To Other Indie/Small Video Game Companies To Get More Help?? by Hiruko
August 13, 2019, 12:45:10
---
Naruto cartoon superhero by Rasull
August 08, 2019, 08:53:07
---
Wait for e-sports by NinjaMirage
August 02, 2019, 00:01:02
---
Kitsune no Sabaku - Nomads of the Desert by Kori Yama
August 01, 2019, 20:51:47
---
Im Back: Part 2 by Nova
August 01, 2019, 16:36:39
---
Top Posters